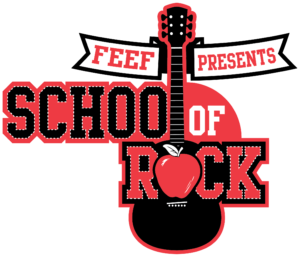 FRIDAY, OCTOBER 18, 2019
Fairhope Civic Center
6:30 pm
Join the Fairhope Educational Enrichment Foundation for its annual fall fundraiser FEEF Presents School of Rock on Friday, October 18, 2019, 6:30 p.m. at the Fairhope Civic Center. The night will pay tribute to great rock and roll and will have amazing food provided by Cactus Cantina, drinks and music provided by D'Jones Entertainment.
All proceeds from this exciting evening benefit FEEF and the STEAM (Science, Technology, Engineering, Art, Math) enrichment programs in all five Fairhope public schools.
Over the last 23 years, FEEF has provided over $2.5 million in enrichment programs to our Fairhope students. These programs include the creation of the award-winningPelican's Nest Science Lab, the Black Box Theatreat Fairhope High School, and the creation and sustained funding of the piano, guitar andchoral programs at both the middle and high schools. As well as providing integral equipment for students such as school-wide calculatorsfor testing, band instruments, iPadsand smart boards.
Your support and generosity, by sponsoring FEEF events, provided over $192,700to our schools for the 2018-2019 school year. This support continued to fund the hands-on Science Labsat Fairhope Intermediate and J. Larry Newton, provided upgrades to the engineering, artand danceclassrooms at Fairhope High and fundedteacher classroom grantsthat includedrobotics, graphic design tablets, project based learning, guided reading programs, and more.
These enrichment programs are critical to the development of our students and these opportunities would not exist without your support.
Sponsor Your Rock Star Teacher or Staff Member 
Deadline – Friday, October 4
Click the link to the form below, complete the form and return to director@feefonline.org