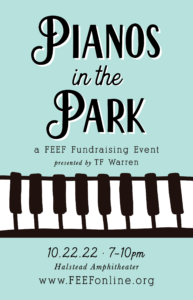 Sponsorships for FEEF Presents Paint the Town are Now Available
Last year your support and generosity allowed FEEF to provide over $192,700 to Fairhope public schools. Thanks you you the following programs were made possible in our schools that would otherwise not exist.
Hands-on Science Labs at Fairhope Intermediate and J. Larry Newton
Interactive Smart Board for STEAM lessons in the classroom and at Pelican's Nest Science Lab, Lego Learn to Learn kits and professional development for Fairhope Elementary
Choral, Guitar and Piano Programs, including teacher salaries, for Fairhope Middle
Guitar, Choral, Piano Programs and upgrades for the art, band, engineering and theatre for Fairhope High
Tutoring programs for each school
Ricky Trione Art Classes for J Larry Newton and Fairhope Elementary students
Teacher Classroom Grants providing robotics, guided reading programs, AP and ACT prep software, digital drawing tablets, Pelican's Nest Science Lab microscopes, and MORE!
Your sponsorship of this FEEF event makes a difference in the quality of education our students receive.
For more information please contact Meg Lowry, executive director, at director@feefonline.org or 251-990-3333 or 334-207-5580.