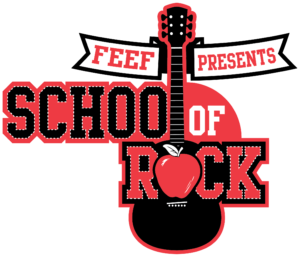 Sponsorships for FEEF Presents School of Rock are Now Available
Last year your support and generosity allowed FEEF to provide over $186,000 to Fairhope public schools. Thanks you you the following programs were made possible in our schools that would otherwise not exist.
Hands-on Science Labs at Fairhope Intermediate and J. Larry Newton
Interactive Smart Board for STEAM lessons in the classroom and at Pelican's Nest Science Lab, Lego Learn to Learn kits and professional development for Fairhope Elementary
Choral and Guitar Programs, including teacher salaries, for Fairhope Middle
Guitar and Piano Programs for Fairhope High
Provided Funding for all Grade 2 and 3 Shared Reading Collections and National Geographic Magazines for Fairhope Elementary
Recycling program support, tuba purchase for band and funding for Career College for Tweens and PocketLab Voyager programs at Fairhope Middle
Flexible seating and support for special needs playground at Fairhope Intermediate
Purchase of Quadcopter Drone for classroom use and funding for Black Box Theatre at Fairhope High
Library Renovation and Butterfly Garden at J. Larry Newton
Funded all NEW piano lab for Fairhope Middle starting Fall 2018
Your sponsorship of this FEEF event makes a difference in the quality of education our students receive.
Download your School of Rock Sponsorship Packet and get all the details.
For more information please contact Paula White, FEEF Director of Operations, at director@feefonline.org or 251-990-3333.